Patricia's India Visa Photo
Most Recent Posts

Navigation Calendar
Days with posts will be linked
Have you ever traveled in Asia?
Most Recent Posts

Most Recent Comments
My Favorite Blogs
Trip to India December 16th 2005-January 7th 2006




December 16th/17th: Off to India..... My best friend and college roomate Louise and I got on the plane in Newark 8:30 PM Friday Dec 16 for our non stop flight to Delhi. Packed flight, great food, new plane (777). Watched a couple Sex and the City DVDs, popped a sleeping pill and slept for around 7-8 hours. Flight was smooth and seemed far shorter than 14hours. "Business first" sleeper chairs recline 170 degrees and are very comfortable. Continental provides a great pillow. Arrived Delhi airport 9:30 PM Saturday. Air was incredibly heavy with incense and smog. Louise's luggage no where to be found. Oh, oh. Then saw that it had been put in the "elite: area" and had been there for 30 minutes. Crisis averted. Our tour guide was waiting for us. Baggage guys lunging at us grabbing our trolleys. They disappear into the fog with our luggage. For some reason, they seemed to know where our car was. Who knows.... Got into a Toyata "Qualis,"(Indian SUV) but not before having strings of orange mums put around our neck (you get used to these--on every arrival in every city). The Imperial hotel looks like it is from another time and place. Very British. 150 year old Royal palms line the drive. As you drive in, they check under your car for a bomb. Uniformed doormen looking like they are from the"Raj" period open your door. More mums and a tikka (red powder) placed on our forehead at the Imperial. We were checked into a very nice "Heritage room" They offered us juice, and even though we had been warned not to drink juices, I was so tired and so thirsty, I threw caution to the wind. No problems ensued. Marble floors, huge bathroom and dressing room, overlooking the courtyard. Slept well. Been a long day.....
| | |
| --- | --- |
| | Permalink | Posted by Patricia Pomerleau on Sunday, January 22, 2006 |

Photos of Delhi




December 18th: Woke up at 8 AM. Feeling pretty good. Beds are the only thing the Imperial could improve upon. I think Gandhi designed these. Great buffet breakfast and our guide and driver met us in the lobby. Great. I just discovered my computer cord doesn't work. Damn. No computer. Oh, well. (Note the cow in the picture. It was my "first" cow in India. 20,000 cows later, they weren't so interesting)

This morning we toured Old Delhi. We took a tour of Old Delhi in a cycle rickshaw. What a human and animal festival. Vegetable sellers, book sellers, cows, bullock carts, cars, buses--all in narrow streets with blaring horns as the unifying element. Our poor rickshaw driver is working hard as he has the two of us plus the guide riding on the back. He has been asked to peddle slowly so we can see the sites. We visit the memorial for Mahatma Gandhi, the mausoleum of the Mughal Emperor Humayun, the Qutab Minar, and the British-built President's house, Parliament and Secretariat buildings. Our first impressions of Delhi are not particularly favorable.

It is smoggy, poluted and incredibly noisy. Beggars everywhere. However, we are jet lagged and did not have a great guide (our original guide got sick and we had a last minute substitute). We will save our opinion for our return. Tonight we have dinner at the "Spice Route" restaurant at the Imperial. Wonderful food, but very pricey.
| | |
| --- | --- |
| | Permalink | Posted by Patricia Pomerleau on Sunday, January 22, 2006 |

Varanasi--Photos




December 19th: On to Varanasi. It's Monday morning. Arose at 6:30 to pack and be ready to be picked up at 9AM. (The buffet breakfasts at the Imperial are great, and the setting is gorgeous.) As we entered the Delhi terminal, there was a huge black water buffalo literally at the entrance--looked like an airport mascot.

Our plane was suppose to take off at 11, but is now not taking off until 1PM. No smog today, but some other reason that no one seems to know. I heard that Indian Airlines (IA) never takes off on time. They may be right. It is a few minutes before we are suppose to take off and no one knows what the gate will be. The monitors show ads for motorcycles and only once in a while give you flight information. I've attached myself to an Indian businessman who is heading to Varanasi and we will get on whatever plane he gets on. I believe that IA must have won some contest for how many seats can fit on an Airbus 320. "Veg or non-veg" asks the flight attendant. I learned my lesson the hard way in China, and I no longer eat anything on non-western airlines. Maybe I'll change my mind in a week or so. It is so strange being offered full meals on flights of less than an hour. In the US you don't even get pretzels anymore. Indian Airlines female flight attendants wear saris. Their nice flat abdomens are showing. I am impressed at how well they navigate in these 6-yard garments. I don't think they are the best outfits for emergencies, but I'm not going there right now......

There are mostly Indians on the plane heading to the holy city. Very few westerners. Varanasi awaits--more later....No, wait. The airplane lands in Varanasi way too fast. The airplane slams hard down on the runway. The plane then careens to the left and over-corrects to the right. A few more rounds of left-rights and we finally straighten out. Oh, well, word has it if you die in Varanasi, you go straight to heaven without having to be reincarnated, so I guess it wouldn't be the worst place to end it all. Too bad I'm not a Hindu that believes in all this. That landing was just about the worst I have ever encountered. As we leave the plane I look into the cockpit and see a Sikh captain and we name him "Cowboy Bob." I will be on the lookout for him on future flights. (Note: the precious little girl in this photo just happened to walk by me and smile.)
| | |
| --- | --- |
| | Permalink | Posted by Patricia Pomerleau on Sunday, January 22, 2006 |

Mist and celebration in Varanasi: Photos




December 20th: Whatever you do, do not miss Varanasi.

It is hard to describe Varanasi.. A cacophony sounds--bells, chants, horns. Streets that haven't changed much in the last 500 years save some hanging electrical wires. "Dentists" sitting on the street with their tools spread about them and what looks like actual patients sitting across from them (yikes.) Bodies being moved through the streets on the top of SUV-type vehicles in joyous processions and covered with flowers. Cremations that are carried out in the open on the burning ghats without great fanfare, just as a natural part of the process of life--"The business of death" . Narrow streets and alleys only wide enough for two people. Soldiers with rifles outside the mosques. Pilgrims on the ghats looking to the Brahmin priest for guidance on praying to their lost relatives (and negotiating the fee for the advice). Floating on the Ganges at sunset watching the nightly celebration and not believing they can actually perform this extravaganza every night. Children jumping from boat to boat like cats on a balance beam selling flowers for tourists and pilgrims to float in the water and make a wish/request to whatever God you believe in. Cows everywhere.

Morning too foggy to go on the Ganges at sunrise. However, the eerie fog makes the ghats very mystical. Instead of the sunrise boat ride, we visited a havali (courtyard house) a few minutes walk from the ghats. It was a great house and very interesting to see how people who live near the ghats live on a day to day basis. There were two cows living on the first floor along with a workshop for the man who owned the house, Rammi, who sells essential oils and masala (spice mixtures). Rammi also happens to create the essential oils for Goldie Hawn, so of course, I had to buy some essential oils--I bought "Noor" (flowers) and "Green Grass." They really smell wonderful, but I have no idea what you are suppose to do with essential oils. On the second floor of the havali was Rammi's family. The children were in the living room lying on pillows studying, his mother was cooking, and his wife made us piping hot Chai. All three floors of the house look down into the courtyard. I was glad that the morning was so foggy--it gave us an opportunity to meet this wonderful family. As we left the house we continue to walk through the town to the other end of the ghats. By then, the fog had lifted and we hired a boat to take us back to the beginning of our morning journey. It was fascinating seeing all the activity on the ghats in the morning. We were the only boat and had the river to ourselves. Soft chanting, laundry drying, people bathing. Amazing. Everyone on in Varanasi seems to have a PhD. Three tour guides that I met had a PhD in archeology or something or other. Must be hard for them to be tour guides.

That afternoon off to Sarnath, where Buddha gave his first sermon. It was moderatly interesting, but I could have skipped Sarnath. I'm sure if I was more interested in Buddhism, I would have found it more compelling. I did get a great picture with a Buddist Monk however; love the look on his face ;-) Back at the hotel (Taj Ganges), got stuck in the elevator--emergency lighting is not a concept in Varanasi--it was pitch black. This was just one of the multiple power outtages we encountered during our trip. You get used to them and carry on. Fortunately there was a bell hop in the elevator with us who assured us the elevator would be moving within a minute. Between airplane landings and elevators, Varanasi is not without hazards! Oh, yes, there are many mosquitos in Varanasi. Back to Delhi for an overnight and then by car to Agra
| | |
| --- | --- |
| | Permalink | Posted by Patricia Pomerleau on Sunday, January 22, 2006 |

Agra and the Taj Mahal: Photos




December 21: Delhi: A leper at my window.

I have traveled all my life and consider myself a pretty sophisticated traveler. However, as we left Delhi we stopped in traffic at a major intersection. I was talking with my friend Louise when I heard a tapping at my window (I had not learned to ignore window taps yet.) I turned and literally three inches from my face was a woman without fingers and missing some of her nose. I recoiled and made some sort of noise I couldn't duplicate today if you had a gun to my head. I had never seen anyone with leprosy. It is astounding that leprosy still exists. Goodbye Delhi...

The road to Agra was our first introduction to "highways" in India. As they say, "in India you need a good driver, good brakes and a good horn." Well horns in India are used very differently than in the US where a horn is usually used in anger. In India the horn is simply a tool--a constantly, incessantly used tool. All the trucks and carts have signs on the back that say "horn please" You get used to it and pretty soon, don't even notice the never-ending horn blowing. However, you never really get used to the trucks coming at you in the wrong lane, pushing you onto the shoulder or worse. Then there are the camel carts, the bullock carts, the goats, the cows, the autorickshaws traveling the wrong way on the shoulder. Our driver told us that a tourist was killed the day before on the road from Agra to Jaipur--so the roads are not without serious risk. We had the BEST driver in all of India. His name is Kewal Kumar. He speaks great English, is funny as can be and knows more about local sites than most of the tour guides. We are driving a couple legs and flying the rest. Kewal drives and meets us at the next destination when we fly. It is so great having the same driver.

You need to stop at the border to Uttar Pradesh. "The border" is just pulling over to the side of the road with various other vehicles. At the border are dancing bears, monkeys and vendors selling peacock feather fans (does anyone buy those things?) and various unrecognizable trinkets. The police try to shake down drivers at every turn. Our driver was stopped so many times and had to pull out all his tax forms---there are many, many tax forms in bureaucratic India.

Agra is a dirty, congested town. It took us forever to get to the hotel due to "rush hour" on the two lane road. However, the activity outside the windows is so fascinating. Ten camels with great decorations on the heads and backs are making far better time than we are while carrying immense amounts of straw on their backs. We have a very good guide who is a Muslim and who proudly told me, immediately upon introduction, that he had made his pilgrimage to the Hajj (Mecca).He just as proudly told me he had one wife who he had married when he was 18 and she 16 and that they had eight children. He also pointed to a condo he had just purchased that was still under construction where he would be moving his family. He paid $40,000 cash that his sons helped him raise. At present he lives with his parents three brothers and all their families. He is trying to get his two oldest daughters married off as well as his sons. He explained the entire selection ritual. A very interesting, intelligent man--and we haven't even caught up with the camels yet ;-)

Ok, we have now arrived at our hotel, the gorgeous Oberoi Amarvilas. What a change from the city of Agra--and what a relief. The hotel is beautiful and restful. We went back out into the city with our driver to photograph the Taj Mahal from the other side of the Yamuna river where I took some of the best pictures of my entire trip. Children playing cricket with the Taj in the background, camels walking with the setting sun in the background, girls gathering sticks for fuel. It was mesmerizing. Our hotel room has a beautiful view of the Taj as do all rooms at the Amarvilas.

December 22nd: We left our terrace door open and around 6:00 in the morning, you begin to hear the chanting of morning call to the mosques. It is a nice sound that you hear every morning throughout India. This morning, we visited the Red Fort (there was too much early morning fog to visit the Taj), which is a gorgeous fort. Later we visited Itmad-ud-daulah tomb (also known as "the baby Taj" and a precursor to the Taj Mahal.). At sunset we visited the Taj Mahal, which is incredibly beautiful. Great photos, but I like the ones on the riverbed yesterday better.
| | |
| --- | --- |
| | Permalink | Posted by Patricia Pomerleau on Sunday, January 22, 2006 |

Country roads and Jaipur: Photos




December 22:

The five hour ride to Jaipur is not quite as wild as the ride between Delhi and Agra. However, we cracked up when, as well were thrown back and forth on a one way dirt path that had been washed out by the monsoons and asked what the "road" was called, our driver said "the national highway" And it WAS the national highway! Our driver cracked up as well. However, since this was the road where a tourist and guide had just been killed, we pulled our seat belts tight and were glad we were in an SUV and not an Ambassador. There are at least six accidents along the road as we travel--trucks collided, tractors overturned, cars in ditches. Stopped at Fatehpur Sikri along the way. Very interesting.

Random thought: There are no cats in India. Seriously, never saw a cat anywhere. Dogs are ubiquitous as are goats, pigs, monkeys and cows, but no cats.

We passed a group of tents along the way to Jaipur and I mentioned how beautiful the women were. Our driver Kewal dryly said "that is a red light district" Oh, my....

Field after field of mustard flowers. We stopped to give some children pens and stickers. Make sure to bring pens and stickers to India. Finally arrived at Oberoi RajVilas--named the 3rd best hotel in the world by Travel and Leisure in 2005. Two magnificent elephants with gorgeous jeweled blankets on their back are at the entrance and salute as you arrive (the contrasts in India are crazy). Raj Vilas is gorgeous, but we think that we would have preferred staying in Jaipur proper at the Rambaugh Palace. Raj Vilas is great for a resort destination, but not the best for site seeing. It is a 20 minute (bumpy, ugly) drive to town everytime you want to leave the property.

Went to see the Samode Havali (hotel) in Jaipur and would recommend it. Gorgeous courtyard, great locations, nice rooms. Nowhere near as posh as Raj Vilas or Rambaugh, but very nice and half the price.

December 23rd:
Visited Pink city, astronomy center and Palace of Winds. Later took elephants to Amber fort. Tip: since the accident in September when a guide was stomped to death of an angry elephant, they have decreased the number of elephants by half and only let them do three rides a day. Therefore, if you want to get an elephant ride in the morning, you need to get there by 7AM. However, if you go at 1PM in the afternoon, there is hardly any crowd at all and you get right up. We actually walked up to the fort in the morning (it is an easy walk) and then took the elephant ride in the early afternoon just for a photo op. We had a great dinner at an unbelievably low price at a restaurant called "Indiana" in Jaipur. Great local dancing. Piping hot, excellent food. Casual. Would highly recommend.

December 25th:

We were at Raj Vilas for Christmas and they did a nice job celebrating the holiday. Unfortunately, most of the major shops were closed for Christmas day, so we didn't get to do any jewelry shopping. However, I made up for that later ;-)

Off to Jodhpur....A favorite city--tied with Vananasi as my favorite
| | |
| --- | --- |
| | Permalink | Posted by Patricia Pomerleau on Sunday, January 22, 2006 |

On the Road to Jodhpur: Photos




December 26th:

This morning we head out to the airport to head to Jodhpur, our driver will meet us there.

Our flight is purported to be "on time" ("on time" being a relative term in India). The flight monitors have ads with Persian cats dancing around interspersed with occasional flight information, but always missing gate information. Electricity randomly going off and on in the terminal. However, we are getting use to IST (India Stretch Time) and people watching in the airport can be pretty interesting.

The "on time" flight rolls in about 90 minutes late. Cowboy Bob is not the pilot. Things are looking up..... The flight between Jaipur and Jodhpur is around 40 minutes and they actually serve a meal. They're quick. An interesting behavior I have noticed on these flights in how many times Indians put on the flight attendant call light. In the US, you don't dare push the flight attendant light unless the passenger next to you is having a heart attack. On Indian Airlines, the call lights are being pushed constantly and the flight attendants take it in stride. I realize that this is an inconsequential finding, but I love discovering these tiny differences in cultures.

Check into the Taj Hari Mahal Hotel in Jodhpur. More strings of mums, mystery juice and more tikkas on our forehead, but we are getting used to these things now and graciously accept( you should always accept the juice, even if you don't drink it--just keep talking and put it in front of you on the table. They keep you busy signing things and checking things so no one will notice you didn't drink the juice). I drank the juice in every hotel and never had a minute of stomach upset.

Other than drinking bottled water and not eating street food, I am just living normally in India and the GI tract is doing just fine. The food is so magnificent, I think I have put on a pound or two. I can't believe I might have actually GAINED weight in India. Garlic naan, yum.

I loved this Taj Hari Mahal hotel! It was great. Rooms are huge. Pool is gorgeous.

We have a fabulous guide in Jodhpur. He showed up dressed all in black with black Jodhpur pants and great camel leather shoes. Off to Mehrangar Fort, which is my favorite fort of all the ones we saw. It literally takes your breath away. You look down upon the ancient "blue city" of the Brahmins.
| | |
| --- | --- |
| | Permalink | Posted by Patricia Pomerleau on Sunday, January 22, 2006 |

Jodhpur and the Maharajah: Photos




December 27th: Jodhpur

(Yes, that is a picture of my friend Louise and me with His Royal Highness the Maharajah of Jodhpur--read on...)

This morning we go on a safari to a Bishnoi village. This 450 year old tribe are environmentalists and live in harmony with nature. No electricity or refrigeration other than this interesting ancient clay cooler (see pictures in Jodhpur photo file). We had an "opium ceremony" and drank opium tea (supposedly it was actually Opium--who knows) as well as were served an "authentic Rajasthan lunch" (some hot bread and pickled eggplant-type cold stew), while sitting on a charpoy (rope bed) outside in a dusty courtyard. It was fun. At this point we figured if we didn't get sick we would never get sick. We did not get sick. The rural people are so gracious and lovely. Gave more pens and cartoon stickers to the children. Their beaming faces when they see stickers are so darling. The children always run and get their little brother or sister so that everyone is included. I brought LOTS of stickers ;-)

This afternoon we went to a polo match after going back to the hotel and cleaning up. Our guide had us take a seat and a few minutes later a big Mercedes pulled onto the field. Out jumped a sporty looking fellow in a polar fleece vest, ascot and cowboy hat. Our guide said "come with me and I'll introduce you to the Maharajah of Jodhpur" So, we sauntered over to the Maharajah and shook his hand and exchanged pleasantries. He asked us a few questions and then motioned to some comfortable seats next to him and said "why don't you join me for the match" So, my friend Louise and I sat with him and he explained the plays during the match. What a great guy--Oxford educated and doesn't sell royal access (through paid dinners and parties) like the Maharajahs of Jaipur and Udaipur do (tres tacky). (see Jodhpur file by clicking the title link of this post)

The commentary during Indian Polo games is wonderful. Two chukkas (polo play periods) are in announced in English and two are in Hindi. Examples of commentary:

"A lovely backhand!"
"A lovely solo effort gone to waste"
"Two youngsters in a tussle"
"Hit with a feeble backhander"

It was great fun!

Late afternoon we returned to Maharani Arts Emporium where I had dropped a bundle the day before on wonderful goods (Louise was almost as bad!). I just had to buy more stuff for my sisters. Jodhpur is where all the major exporters come to place their orders for weavings and fabrics. At Maharani Arts there is no bargaining, but you can get authentic designer goods for a fraction of the International prices. They only sell design overruns on the premises and do not bargain--the designers allow them to do this, but only if people come to the shop. Prices are more than fair and are fixed. All the celebrities load up here (pictures everywhere of the gliterati). There is no junk--only 8 rickety floors of very high end stuff. Thank God it was my last day in Jodhpur or I could have done even more damage. They ship at very reasonable prices and everything arrived in perfect condition. I do not regret one purchase that I made at Maharani Arts Emporium. The really fabulous part of Jodhpur that you don't realize until you get there is that there are essentially no beggars or touts because there are fewer tourists. That little fact makes the city so much more enjoyable.

Visited Umaid Bhawan Palace (and hotel). Simply gorgeous, but very formal, and we are happier at our hotel.

Off to Udaipur....
| | |
| --- | --- |
| | Permalink | Posted by Patricia Pomerleau on Sunday, January 22, 2006 |

Udaipur--the Venice of India: Photos




December 28th--31:

Udaipur is just beautiful. The lakes are brimming with water for the first time in years and the weather is perfect. Udaipur has both mountains and many man-made lakes built hundreds of years ago. We are brought to the Oberoi Udaivilas which is gorgeous and has a wonderful Banyon Spa. We are here for four days and plan on spending a couple day just for manicures, pedicures, facials, massage and yoga. All the treatments and the yoga is fantastic. Yogo classes are given on the roof of an ancient palace on the Udaivilas grounds that overlooks Lake Pichola. Exquisite.

We have been traveling so much that we decide not to do the five hour round trip to Ranakpur to see the famous Jain Temples. I know many people will say we missed a great site, but frankly, five hours on dusty, bumpy, exhausting roads was just over the top for us at that point. Besides, by this point in the trip we had seen so many temples that we were a bit "templed-out." However, I hear that the Jain Temples at Ranakpur are spectacular. Next time.....

Rather than the trip to Ranakpur, we drove a shorter distance to the Devi Garh Hotel and had lunch. We wanted to see the Devi Garh. It is about to get more famous as the British model/actress Elizabeth Hurley is about to take over the entire hotel this spring as the venue to marry her Indian fiancÚ. The Devi Garh is gorgeous and it was a toss up to us whether we would rather be at the Oberoi or the Devi Garh. The Oberoi setting on the lake is spectacular, but the Devi Garh had hiking in the nearby mountains, camel safaris etc, so it might be a better choice for the very active looking for unique activities. The Devi Garh has a phenomenal pool with lots of beautiful people and a marvelous restaurant. Very modern design, but much less severe looking than in the brochure. The staff is a bit less solicitous than at the Oberoi--I prefer the less solicitous approach.

Speaking of Temples. Seriously, after the first five cities we put a hard-stop on Temples. After the first ten temples, all the Shiva Lingums (Linga?) begin to look the same. (The Shiva Lingum is the phallic representation of the God Shiva and the only representation allowed in the Shiva temples). To temple purists, please forgive me. Yes, I enjoyed seeing the temples and mosques, but it is no different than the being dragged to the 15th cathedral in Europe. I preferred walking the lanes and vegetable markets and seeing children's faces rather than seeing another temple.

We are at Oberoi Udaivilis for New Years Eve and the celebration is great. Wonderful food outside on the patio at the Udaivilas with dancers and musician and great fireworks over Lake Pichola.. Off to bed as we have an early flight to Mumbai (Bombay).

There is not a great deal to see in Udaipur. It is really just a very pretty place with a wonderful vegetable market and a massive, inpressive palace. You can see everything in a day. (The old James Bond movie "Octopussy" was filmed on location here and was great fun to watch one evening while we were in Udaipur.) It is a great place to take a rest, but if you are limited in time, I would probably skip Udaipur. I'm sorry that we didn't get to see Jasilmer as it sounds fabulous. I think I would have preferred it, but then the R&R was really nice at this juncture in the trip--tough call.

Off to Bombay--sorry to say goodbye to our driver. He's been great. Sent a lot of stuff in the car with him to take back to Delhi where we will catch our flight in a few days back to the US. A really nice benefit of having the same driver :-)
| | |
| --- | --- |
| | Permalink | Posted by Patricia Pomerleau on Sunday, January 22, 2006 |

Mumbai (Bombay): Photos




January 1, 2006:

Flight to Mumbai uneventful and of course we were served another meal. I continue to be impressed by how quickly they can get drinks and food out and picked up in less than an hour. We are now on the Jet Airways. What a difference! We decided to eat a veggie meal. It was great. I love Jet Airways. It is a private upstart airlines and they copied the book from Jet Blue. Because there has been a terrorist attack in Bangalore all the airlines are on even higher security. You get frisked at least twice before getting on an airplane.

Mumbai has a dramatically different feel than Delhi and a real cultural shift from the last ten days in Rajasthan. We drive by all the great British-era buildings that are crumbling, but still remain dignified. Staying in the heritage wing in the Taj Mahal Hotel. Gorgeous and very cosmopolitan. Indian teenagers in jeans and tight sleeveless tops with bra straps showing. Chic tourists in designer clothes. Stunning Indian women in VERY expensive saris and Punjabi's. French designer shops in the lobby, multi million dollar diamonds for sale. Toto, we aren't in Rajasthan anymore.....

Lunch by the pool a the hotel which is a must. You really get a feel of what it must have felt like during the British period.

Took a public boat out to the Elephanta caves. It was New Years day and a big mistake to go to the caves that day. It is an hour ride. I happened to ask the guide about life preservers. She pointed to the tires on the side of the boat (that are nailed to the side of the boat as bumpers). Oh well....too late. Great view of Mumbai harbor. May be my last view of anything.....

It is horribly hot and the crowds at the Elephanta caves are almost indescribable. Another Shiva Lingum. All domestic tourists--shoulder to shoulder. You need to walk up a long pier and then hundreds of steps to get to the caves. It is interesting, but I would never do on a holiday. I feel hot and filthy for the first time in India.

A really funny thing happened on the way back to the boat. A British woman was walking with her husband and was dangling a bottle of coke between her fingers as she walked. Our guide suddenly said "there goes the coke!" A baby monkey casually walked up to her, grabbed the coke and ran back to a tree where she opened the bottle and leaned back and drank the coke. Would be a great ad for Coca Cola. See her for yourself: http://ceourl.com/Monkey_with_Coke

Back down the steps, back down the pier. We are now wilting. Walk across five boats to get to the outside boat. Posted sign: Maximum 40 persons. Actual persons on boat: 100. Life preservers: 0 Landed safely and all is well. Need a shower bad.

I have no pictures of the Elephanta caves except for that bad baby monkey. They are caves with Budda and a Shiva Lingum. Just use your imagination.

Our guide is Jewish and a terrific guide. I only mention her religion as she is one of the only 4500 Jews left in Bombay (which is the largest Jewish enclave in India). Very interesting conversations about being Jewish in India.

January 2nd:

Today we did a Bombay city tour. Decided to continue skipping temples and rather spend more time "feeling" the city and driving around this massive city. Drove to the high rent district where $1 million gets you a tiny flat. Saw the Parsi park in the middle of the city where their dead are left at the top of towers to be taken away by vultures. Visited the famous famous dhobi-wallahs (washer men/women) where they do laundry everyday for thousands of residents of Bombay. I have no idea how they keep everything straight, but they do. I have great pictures of this incredible operation. Just click the link above.

We decided to do some shopping where east meets west and went to a high end store called "Melange" It is almost impossible to find this shop, but I bought a fabulous "crinkled silk" skirt that will be perfect to wear when I'm home. They altered it and had it delivered to my hotel that evening. You can get lots of cheap stuff in Rajasthan, but it is difficult to wear in the US. In Bombay and Delhi they have great "Indian inspired" western wear that is perfect for when you are back in the US.

We have decided to stay in Bombay an extra day and skip one of the cave days in Arangubad (we are getting a bit "caved-out" as well)

We go to "Indigo," a terrific restaurant in Bombay, for dinner. It is right out the back door of the Taj Mahal. We put on high heeled shoes and dress up. It was fun. . Food was spectacular. We continue to have Cosmopolitan martinis every night (our regular habit in India ;-) along with Kingfisher beer (which is really good, light beer). I had their famous Lobster risotto and it was fabulous. Appetizers, Cosmos, wine, dinner and dessert came to around $85 for two of us. Expensive for India, but it was worth it. We sat on the rooftop patio and the night breezes were wonderful.

As we left Indigo, the street level floor was filled with gorgous 20 somethings in low rider jeans and tank tops. You would think you were in LA.
| | |
| --- | --- |
| | Permalink | Posted by Patricia Pomerleau on Sunday, January 22, 2006 |

Aurangubad Caves: Photos




January 3rd:

Today we spend the day walking around Bombay by ourselves. Found a great store called "Fab India" which has branches all over India. It was founded by an American in the 1960's who married an Indian. Great fabrics by the yard and shirts and stuff, unbelievably cheap. If you are decorating a home, I would fly to Delhi (a bigger Fab India store than Bombay), I would buy everything for the house. You would save so much money the trip would be paid for 10 times over.

It was a nice day just walking without any guides and without a plan.

Took a plane to Arangubad late afternoon. Transferred to Taj Regency, which is the best hotel in Arangubad. Quite nice--like a Sheraton. Wireless internet in every room. Had buffet dinner (yes, we are eating absolutely everything from the buffet tables now, including sliced fruit, dessert, you name it). I think the buffet warnings have been exaggerated, but that is just my experience. We are now brushing our teeth with tap water (kept forgetting anyway), eating from buffets with abandon and not worrying. We have not had one minute of illness--either of us.

January 4th:

Visited Ellora caves that are only a 45minute ride outside of Arangubad. Astounding caves, but would have probably skipped them for Goa or Kerala. Have great pictures. However, we are glad we made the decision to skip Ajanta. They are over a two hour ride and I have had just about enough of caves. They are great, but begin looking alike. Yes, I know there are cave purists that would disagree, but that is my opinion as a non-cave fanatic. My bottom was gropped for the only time in India at the Ellora caves. Go figure.

Back to the hotel and spent the afternoon by the pool.
| | |
| --- | --- |
| | Permalink | Posted by Patricia Pomerleau on Sunday, January 22, 2006 |

Getting ready to go home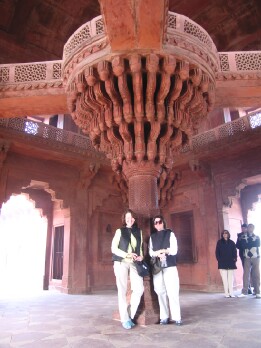 Leaning on a pole at Fatehpur Sikri

January 5th:

Early flight to Bombay and on to Delhi. Hot vegetarian breakfast is served on the 30 minute flight to Bombay. It was Jet Airways, so we indulged. Delicious!

Stuck in the Bombay airport for four hours due to "fog" in Delhi (it is smog, but they prefer to call it "fog"). Fortunately we didn't travel yesterday as flights were diverted to Lucklow and passengers had to spend the night on the plane! So, we are not complaining.

We get back to the Imperial and have a wonderful dinner at the Indian restaurant at the hotel. We dress up for our last night. Almost all the men are Western and in coat and tie. A rarity on the tourist track.

January 6th:

Our last day is totally focused on shopping!

Our travel agent president personally takes us to the best shops in Delhi where the local gliterati shop. Wow. the most gorgous multi-story "malls" I have ever seen in my life--bar none. Not even LA or NYC has this level of high end shops in one place. They are called M-1 and M-2 for their addresses. Interestingly, the buildings are sort of a co-op of the designers. After this great tour with Ajay our agent, we now really like Delhi and have totally changed our initial jet-lagged opinion. Would visit Delhi again. Prefer it to Bombay.

Bought some great stuff at these designer shops. Expensive for India, but not touching US prices.

Had the hotel room until our flight at 11:30 PM. Headed to the airport around 8:30PM. Airport does not seem as wild as when we arrived, but I am sure it is that my attitude toward complete chaos has changed.

Non stop flight to Newark smooth as silk. Great food, wine and slept for 7 hours in very comfortable sleeper chair. Love Continental Airlines.

India is fascinating. More so, in my opinion, than China. China is easy to figure out and very easy to visit. I clearly understand how China is winning the trade war--it is a simple formula. India leaves you scratching your head relative to the stunning uneveness of their democratic country and their people. I believe you need to visit other countries in Asia before India. It is not a good first country. The stimuli assaults you from every direction. It takes some getting used to in the first week.

However, it is culturally rich, the food is *SO* much better than in China, the colors are stunning and the shopping is great. If you can get through the first week, you're golden and will have a great time.

As they say in India, Namaste
| | |
| --- | --- |
| | Permalink | Posted by Patricia Pomerleau on Sunday, January 22, 2006 |